Description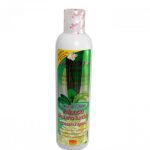 Description
Jinda Baimisot conditioner with rice milk is included in the complex of drugs for the treatment of baldness, hair loss, dandruff, seborrhea, fungal diseases of the scalp. Jinda conditioner is recommended for the restoration and treatment of hair and scalp, regularly exposed to the aggressive damaging effects of dyeing, chemical perm, heating devices, etc. blood circulation in the hair roots.
Ingredients: Litsey Sticky, rice milk, provitamin B5.
How to use: use conditioner after shampooing your head. Apply conditioner to moist clean hair, spread over the entire length of the hair, massage the scalp with massage movements, leave the conditioner on the hair for 3-5 minutes, then rinse with water. It is recommended to use daily in the morning. For best results, it is recommended to use conditioner in a complex with the Jinda shampoo of the same name.