Description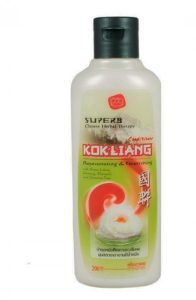 Description
Hair conditioner enhances the healing effect of Kokliang shampoo, does not make the hair heavier after use, relieves itching and unusually "cools" and deodorizes the scalp. Thai herbal hair conditioner has a very pleasant unusual ethereal herbal aroma, returns shine and strength to hair. To enhance the effect, it is recommended to use with KOKLIANG shampoo.
Composition:
Ginseng extract – has a noticeable regenerating and healing effect, helps to improve the condition of the tips and forget about unwanted chipping, improves the skin's water-fat balance and stabilizes the absorption of nutrients.
The snow lotus extract is rich in microelements, amino acids and vitamins, helps to strengthen the measles of the hair, thus solving the problem of early baldness, and also transports important nutrients to the cells so that the curls look voluminous and are always silky to the touch.
Borneol is extracted from a valuable plant growing in Southeast Asia, has a healing effect on hair, helps to stop excessive hair loss, as well as remarkably combats any manifestations of dandruff and has antibacterial and antiviral effects.
Jasmine tea – perfectly refreshes and rejuvenates the curls, improves the internal structure of the hair and is responsible for the full moisturizing of the hair on the entire length, and also protects the strands from harmful atmospheric influences and prevents them from fading under ultraviolet rays.
Main properties of the KOKLIANG conditioner:
enhances the active growth of hair;
strengthens the curls along the entire length;
relieves redness and unpleasant itching;
eliminates the root causes of hair loss;
gives a natural glitter to a long hair;
makes strands more docile and smooth;
facilitates blow-dry and combing;
improves blood flow to small vessels of the head;
gently cools and soothes;
does not contain chemicals, parabens and hazardous sulphates;
removes harmful free radicals from cells.
Mode of application:
Use conditioner after shampooing. Apply conditioner to moist clean hair, spread over the entire length of the hair, massage the scalp with massage movements, leave the conditioner on the hair for 3-5 minutes, then rinse with water.