Description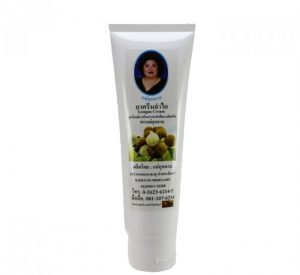 Description
Made according to a traditional Thai recipe, a healing cream for leg pain with Hamar Longan Cream based on natural ingredients perfectly contributes to the effective fight against bored pain in stressed joints and muscles, and also helps to get rid of discomfort for a long time.
The main properties of the cream with longan:
relieves unpleasant inflammation and edema that occur nearby;
has a slight warming effect;
allows you to freely and painlessly move;
effective for arthritis, as well as myositis and painful arthrosis;
relieves a feeling of heaviness in the limbs;
has a quick therapeutic effect;
can be used for radiculitis and osteochondrosis;
contains harmless natural ingredients;
contributes to maintaining healthy joints for a long time.
The main components:
Extracts of healing Thai herbs – more than 12 different medicinal plants, optimally selected to provide the maximum therapeutic effect, have a mild natural effect on the joints and muscles, restoring them from the inside and relieving pain, remove free radicals from the tissues, thereby providing an antioxidant effect, and also saturate cells necessary substances.
Longan extract – extracted from a special tropical plant growing in South Asia called longan, the substance obtained from its fruits has invaluable properties that can protect muscle and cartilage tissue from damage and even significantly slow down the destruction of articular cartilage.
Menthol – has a calming effect that alleviates pain, helps to reduce swelling in the muscles, relieves stress and actively relaxes stressed tissues, removes spasm.
Cream with Longan relieves discomfort after a long load, is indicated for use in pain in the knee, foot joints, is useful for older people with convulsions, tremors. The cream is suitable for use 2 to 3 times a day.