Description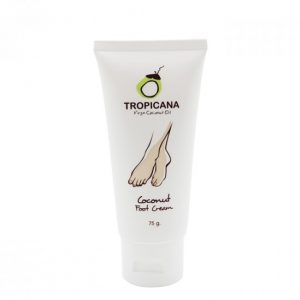 Description
Moisturizing coconut foot cream with 10% urea effectively softens the coarsened skin of the feet, making it smooth and tender. Reduces dry skin and retains moisture in the stratum corneum. Eliminates peeling of the skin, heals cracks on the heels. Allows you to get rid of corns and corns.
With Diabetes – Tropicana Foot Cream provides comprehensive care for diabetic feet, prevents pathological changes in the skin of the feet and speeds up the healing of existing injuries. Regular use of the cream helps prevent the development of skin changes characteristic of diabetes.
The cream helps to maintain normal blood supply, prevents loss of receptor sensitivity. The cream nourishes, softens and moisturizes the skin, reduces dryness and restores skin elasticity, relieves itching and irritation during allergic reactions, dermatitis, diathesis and psoriasis. Normalizes metabolic processes in the skin cells, activates blood circulation and strengthens the walls of capillaries. Improves the supply of skin cells with nutrients and oxygen. Prevents damage and rupture of the capillaries. Accelerates the healing of damage.
Composition:
The composition includes the following active ingredients: Coconut oil, Shea butter, Urea.
With regular use of coconut foot cream Tropican, the skin performs its protective functions better, it becomes more elastic and smooth, young looking. The skin is less susceptible to all sorts of calluses and corns.
Mode of application:
Apply a small amount of cream on your feet and between your fingers with light massaging movements. To prevent skin changes, it is recommended to apply the cream once a day for the night. To eliminate minor skin changes – 2 times a day (in the morning and at night). To eliminate pronounced changes in the skin – 4 times a day.
DO NOT CONTAIN PARABENS!