Description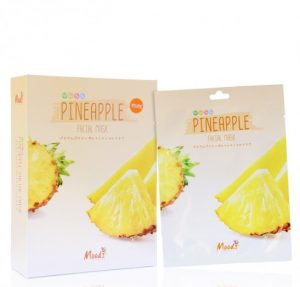 BELOV Fruit Face Mask is a fast, pleasant and affordable way to take care of the skin of the face with high quality without significant expenses, but with maximum benefit. Comfortable cut of the fabric of this mask helps biocellulose to tightly frame the face. A large amount of nourishing serum deeply and carefully penetrates the pores of the skin and fills the cells with necessary moisture, vitamins and microelements. Mask with pineapple has a powerful antiseptic effect. Pineapple extract in its composition perfectly fights free radicals in the cells, thereby triggering the processes of regeneration and rejuvenation of the skin. Alpha hydroxy acid in pineapple has a peeling, moisturizing, anti-inflammatory and antioxidant effect, and also stimulates the synthesis of collagen and glycosaminoglycans in the skin. After applying this mask, fresh, pleasant sensations, clean pores, a toned face shape and, of course, a bright, sweet taste of ripe pineapple remain.
Composition:
Chemical composition: Allantoin, Ananas Sativus Fruit Extract, Glycerin, Hydroxyethylcellulose, Nicotinic Acid, Methylisothiazolinone, PEG-40 Hydrogenated Castor Oil Isostearate, Sodium Hyaluronate, Water.
Allantoin is a hypoallergenic component that promotes cellular regeneration of the skin, heals cuts, abrasions and cracks, relieves irritation, has bactericidal, exfoliating, conditioning and antioxidant properties.
Pineapple Extract (Ananas Sativus Fruit Extract) – soothes skin inflammation, helps fight acne, smoothes wrinkles, nourishes the skin, evens complexion.
Nicotinic acid – contributes to the activation of cellular respiration, accelerates metabolic processes, dilates small vessels, and participates in blood formation. Necessary to maintain a healthy complexion, has anti-inflammatory effect.
Castor oil – has a strong softening and nourishing effect, helps to cope with problems such as lack of moisture, dryness, roughness, peeling, loss of elasticity and unevenness of the skin. Castor oil is perfect for sensitive skin care. It is famous for its anti-aging and smoothing properties, so it is often used to fight shallow wrinkles.
Mode of application:
Clean the face, open the bag and remove the mask from it. Place the mask on the face so that the fabric fits snugly to the skin. Firmly hold the mask to your face with both hands. Remove the mask in 15-20 minutes. Gently rub the remnants of the gel into the skin. Serum in the package so much that after use, the mask can be closed and put into the refrigerator for a repeat procedure in a couple of days.
Release form:
Vacuum bag, serum 38 ml, set of 10 pieces.