Description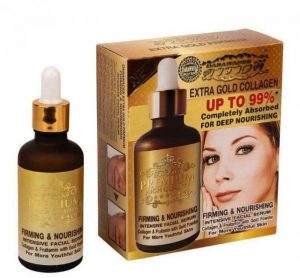 An effective drug designed to rejuvenate and renew epithelial cells with collagen and active gold is Darawadee Intensive Serum for the face. It is recommended for problematic and aging skin with enlarged pores.
Basic care:
activate metabolism in the upper and deep layers of the epithelium;
accelerate cell regeneration;
smooth out minor wrinkles;
restore radiance to the skin;
slow down the formation of melanin;
eliminate unwanted pigmentation and freckles;
lighten and even out skin tone;
normalize the sebaceous glands and get rid of oily sheen;
stimulate the production of elastin and collagen, making the skin supple and toned;
nourish the epithelium with useful natural substances;
moisturize the skin and maintain water balance.
Ingredient:
collagen Q10,
vitamins A, C, E,
active gold
soy protein
extracts of aloe vera, noni juice, papaya and pineapple.
Method of application: apply two or three drops of liquid to clean skin of the face and décolleté. Then gently massage it with your fingers until the product is completely absorbed. It also serves as a permanent makeup base.
It is recommended to use serum twice a day (morning and evening).