Description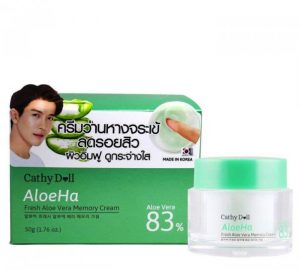 83% of Cathy Doll's cooling and refreshing face cream consists of a natural aloe extract – this cream not only refreshes and moisturizes the skin, but also cares for it, thanks to aloe and other natural extracts. The cream effectively fights skin rashes, relieves inflammation and eliminates acne, promotes rapid regeneration of the skin, and also makes the skin lighter and more radiant, leveling the tone of the face.
The refreshing effect of the cream allows you to use this cream for light sunburns.
Ingredients: 83% extract of aloe barbadensis, extract of Canadian fireweed, extracts of sage leaves and camellia flowers of Chinese, tea tree essential oil, provitamin B5, vitamin E.
How to use: Apply the cream to clean skin. Gentle circular movements to rub the cream until completely absorbed. Suitable for regular use.