TROPICANA, Coconut night cream with aloe 50 gr.
$32.95
Description
 TROPICANA™
 Cream
 50 gram
 100 gram
 Thailand
Description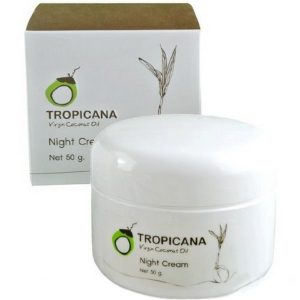 Description
Effective night cream with a complex of natural ingredients that restore the skin of the face.
Coconut oil, shea butter, aloe vera juice, extracts of the mushrooms Phellinus Linteus and Schizophyllum restore the natural hydro-balance, nourish, strengthen and fight age-related changes throughout the night.
Cream levels the texture, tightens pores, regulates inflammation.
The unique Nanocube-V technology ensures the delivery of all active ingredients to the deep layers of the epidermis.
Composition:
The following active ingredients are part of the cleansing lotion:
Coconut oil (Cocos Nucifera Oil) – nourishes and moisturizes the skin, gives the skin a healthy, well-groomed appearance, smoothes the skin, has wound-healing properties, promotes rapid healing of foci of skin irritation.
Shea Butter (Karite) Butyrospermum Parkii (Shea Butter) reliably protects the skin from the negative effects of ultraviolet sunlight and has strong regenerating properties. Shea butter has anti-inflammatory properties, so it can be used to solve skin problems such as ulcers, acne and dermatitis. It penetrates deep into the skin and provides its layers with necessary beneficial ingredients. It is recommended for the care of fading and mature skin, helps to stimulate collagen synthesis. Regular use of Shea Butter preparations will improve the complexion, improve skin tone, make its texture even more dense, give skin elasticity and reduce wrinkles.
Aloe Barbadensis Leaf Juice (Aloe Barbadensis Leaf Juice) – often referred to as "The Miracle of the Plant" or "Natural Doctor", harbors many amazing qualities. Aloe juice extract opens and cleanses the pores, moisturizes and tightens the skin, as it is able to easily and deeply penetrate the skin, restore metabolism, stimulate cell regeneration, and also remove inflammation and irritation.
Sanhvan or fellinus flaxen (Phellinus linteus) – This type of tinder fungus removes toxins, has a high content of Beta-glucan, helps to maintain the natural level of moisture in the skin, reduces the formation of fine wrinkles and maintains skin elasticity.
Polysaccharide Schizophilan (Schizophyllan) increases the ability of the skin to neutralize the negative effect of external oxidants. It activates the skin's own protective mechanism, providing extra care and hydration throughout the day.
Squalene (Squalene) – it is easily distributed over the surface of the skin and forms a protective film that prevents moisture loss. It helps to improve skin breathing.
Niacinamide – Vitamin B3 (Niacinamide) – a necessary component for cellular metabolism, is involved in the synthesis of hormones and proteins. Stimulates blood circulation and activates the transport of oxygen into the cells. It soothes inflamed skin, helps to smooth the complexion, and effectively moisturizes the skin.
Chemical Composition: Water, Cocos Nucifera (Coconut) Oil, Niacinamide, Cetyl Alcohol, Aloe Barbadensis Leaf Juice, Glycerine, Butyrospermum Parkii (Shea Butter) Fruit, Cetil Alcohol, Sodium Polyacryloyldimethyl Taurate, Demethicone and Ime, I can apply for you and your ache , Hydrogenated Polydecene, Octydodecanol, Propylene Clycol, Hydrogenated Polydecene, Perfume, Octydodeceth-20 + Squalane, Butylene Glycol, DMDM Hydrotoin, Trideceth-10, Phenoxyethanol, Phellinus Linteus mycelium Extract / Schizophyllan, phenoxyethanol, Phenoxyethanol, Phellinus Linteus mycelium Extract / Schizyllan, Phenoxyethanol, Phenoxyethanol, Phelenine Llyus mycelium Extract / Schizan, Phenoxyethanol.
Mode of application:
Apply a small amount of cream to cleansed face and neck before going to bed. Avoid sensitive eye area. The cream is well absorbed, leaves no greasy.
You have not viewed any product yet.