Description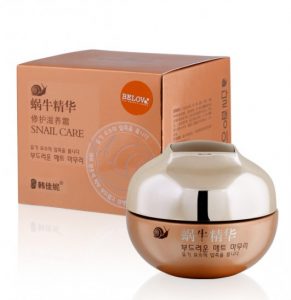 Description
Modern anti-aging snail face cream Belov Snail Care made in South Korea. Snail secretion has high regenerating properties and effectively regenerates skin cells.
The snail secretion includes: collagen, elastin, protease enzyme, allantoin, chitosan, vitamins A, C, E, B6 and B12. All of these elements are necessary mollusk for quick recovery of the shell in case of damage. The mucus filtrate acts on human skin in a similar way: it renews, restores, gives elasticity and strength, maintains the necessary level of moisture, relieves skin inflammation.
The filtrate mucus snails have the unique ability to visually smooth out wrinkles, even the smallest, only appearing, as if filling them from the inside, and soften the lines of skin creases.
Composition:
Chemical Composition: Water, Snail Secretion Filtrate, Vitamin E, Hydrolized Collagen, Vitamin C, Arbutin, Butylene Glycol, Caprylic Acid, Carbomer, Ceteareth-20, Cetearyl Alcohol, Glycerin, Glyceryl Stearate, Glyceryl Polymethacrylate, Peg-100 Stearate, Triethanolamine, Phenoxyethanol, Fragrance.
Natural snail mucin is extracted in a safe and natural way from snail mucus, contains powerful antioxidants, a unique set of vitamins, minerals, as well as special substances that can penetrate deeply into human skin and ensure its rapid rejuvenation. Promptly heals skin lesions, removes free radicals and smoothes the skin's relief, and snail mucus removes stretch marks after pregnancy and reliably protects the skin from infections, bacteria and various viruses.
Collagen and elastin – are important components of human skin, are responsible for the elasticity and speed of recovery of the skin, contribute to enhancing the strength and smoothness of the face, noticeably slow down wilting of the skin, remove dark circles from tiredness under the eyes, activate microcirculation and improve cell nutrition.
The main properties of face cream with snail mucus extract:
famous for its anti-aging capabilities;
perfectly smoothes the skin, removing irregularities and wrinkles;
tightens the facial contour;
strengthens the skin frame, providing its elasticity;
accelerates the process of cell renewal;
stimulates regeneration and metabolic processes in the body;
facilitates the process of removing dead skin cells;
makes the skin very silky and soft;
removes scars, acne marks, small scars;
combined with any type of skin.
Mode of application:
Carefully apply the cream on clean face and neck skin. Gently rub in a circular massage movements until completely absorbed. It is recommended to use twice a day, morning and evening.