Description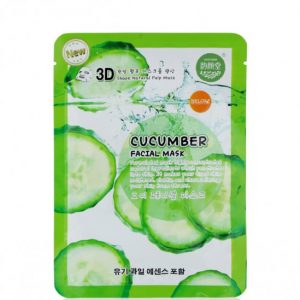 Description
Facial mask with an extract of vegetables from BELOV is a fast, pleasant and affordable way to take care of the skin of the face with high quality without significant costs, but with maximum benefit. Comfortable cut of the fabric of this mask helps biocellulose to tightly frame the face. A large amount of nourishing serum deeply and carefully penetrates the pores of the skin and fills the cells with necessary moisture, vitamins and microelements. The mask with cucumber extract restores strongly dehydrated and tired skin, restores a fresh complexion, edemas and fatigue disappear. Cucumber extract normalizes the production of sebum, and the enzymes contained in it, block the production of melanin, which helps smooth the pigment spots on the face. The skin becomes elastic and taut.
Composition:
Chemical composition: Allantoin, Cucumis Sativus Extract, Diazolidinyl, Disodium EDTA, Fragrance, Glycerin, Hyaluronic Acid, Hydrolyzed Collagen, Hydrolyzed Silk, Hydroxyenthyl, Ethylcellulose, Paraffinum Liquid, Vitamin C, E, Water, Witch Hazel Distillate.
Allantoin is a hypoallergenic component that promotes cellular regeneration of the skin, heals cuts, abrasions and cracks, relieves irritation, has antibacterial, peeling, conditioning and antioxidant properties.
Cucumber extract (Cucumis Sativus Extract) – normalizes the production of sebum, and the enzymes contained in it, block the production of melanin, which helps level the pigment spots on the face.
Hyaluronic acid (Hyaluronic Acid) – promotes the synthesis of collagen and elastin in skin cells, has antiseptic properties, promotes cell regeneration, binds and retains water in the cells of the body.
Hydrolyzed Collagen – creates a protective film on the surface of the skin, which does not allow moisture to evaporate, thereby nourishing the skin, protecting it from drying out. Able to remove even severe skin irritations.
Hydrolyzed Silk is a gentle skin conditioner that retains moisture and protects against dryness, facilitates penetration of useful substances into the cell structure.
Vitamin C – is involved in the synthesis of collagen, delays the aging process of cells, promotes healing, restores skin elasticity.
Vitamin E, or tocopherol – is able to keep the skin young. It speeds up cell renewal, helps protect the epidermis from exposure to ultraviolet radiation.
Witch Hazel Distillate – is a fantastic natural remedy for treating skin in case of acne, acne, psoriasis and eczema. It is used as a moisturizer that improves the hydration of the stratum corneum of the skin, reducing the loss of water from the skin and maintaining its softness and elasticity.
Mode of application:
Clean the face, open the bag and remove the mask from it. Place the mask on the face so that the fabric fits snugly to the skin. Firmly hold the mask to your face with both hands. Remove the mask in 15 – 20 minutes. Gently rub the remnants of the gel into the skin. Serum in the package so much that after use, the mask can be closed and put into the refrigerator for a repeat procedure in a couple of days.
Release form:
Vacuum bag, serum 38 ml, set of 10 pieces.