Description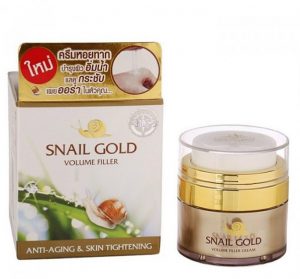 Description
Cream-filler for any type of skin promotes cell regeneration, moisturizes and nourishes the skin, retains moisture, tightens pores, eliminates pigmentation, heals wounds and scars on the skin.
Fillers are the means for smoothing wrinkles and smoothing wrinkles. In the classical sense, the fillers are injection gels, which are injected subcutaneously. Such a cosmetic procedure is expensive, moreover, quite painful. But now you have a cream-filler for the face, which includes the same hyaluronic acid, which is part of the injection preparations, as well as the extract of the secret of the cochlea, which is widely used in cosmetology with healing and rejuvenating purposes.
Cream-filler is a painless, safe, affordable alternative to cosmetic injections! It is a potent, multifunctional, single-stage third-generation cosmetic product for non-addictive skin renewal. It is proved that the cream on the basis of snail mucus effectively helps with scars, wrinkles, grooves, burns, acne, spots on the skin, small cuts.
Anti-aging cream-filler for mature skin with an intense multi-formula, consisting of 7 active components in the fight against aging: filtrate snail mucus, aloe vera extract, kojic acid, hyaluronic acid, extracts of camellia and centella leaves, and vitamin E.
Composition:
Snail mucus filtrate, Centella Asiatica extract, Aloe Vera extract, Camellia leaf extract, kojic acid, hyaluronic acid, vitamin E, B2, B3, C and K, collagen, DMAE, glucosamine, glycerin, water, H-EQ 10, allantoin, argireline, collagen, elastin.
Snail mucus is a unique natural substance that is produced by the cochlea to regenerate damage to the body and the shell. The mechanism of action on human skin, to the surprise of scientists, turned out to be similar: this valuable component came into the world of cosmetology, having gained immense popularity not only among Hollywood stars, but also among many women around the World! Snail mucin has a rich chemical composition, rich in essential proteins. It is easily absorbed by the skin, helps smooth wrinkles, quickly eliminate acne, acne, age spots and scars, instantly eliminates dryness, fills every cell with nutrients. Snail mucus forms an invisible film on the surface of the skin that prevents water from evaporating, protects against germs and negative environmental factors. The result is a young, soft and smooth skin that has perfect tone and relief! Snail mucus is a hypoallergenic component that solves a huge range of problems: it rejuvenates, levels, softens, mattes, soothes, tightens, protects against external aggressive factors that cause aging. Concentrated filtrate of snail mucus in the cream, fills the wrinkles on the skin, acting as a filler, and also has antiseptic and anti-inflammatory properties, preventing the development of inflammation on the skin. Snail mucin – purified snail mucus is saturated with irreplaceable proteins, as a result of which it improves skin turgor, smoothes it, nourishes and rejuvenates. The regenerating properties of mucin provide elimination of skin defects and improvement of complexion.
Hyaluronic acid deeply moisturizes the skin, making it more toned, elastic, elastic. Hyaluronic acid must necessarily be part of anti-aging cosmetics. Hyaluronic acid is an excellent moisturizer, one molecule of which holds hundreds of water molecules! This component accelerates the body's production of important for youth and elasticity of elastin and collagen, prevents dryness and fading, has a rejuvenating effect, promotes active lifting. Hyaluronic acid binds water molecules, providing a prolonged moisturizing effect, normalizes the synthesis of collagen and elastin in the body.
Vitamin E is the most famous skin vitamin that eliminates scars, stretch marks and skin damage. It accelerates skin regeneration, moisturizes, heals, stops skin aging, neutralizes free radicals.
Barbados Aloe Leaf Extract provides skin protection against free radicals, thereby preventing aging of the skin. Heals wounds, pimples, eliminates blemishes, fights acne and acne. Aloe vera, a source of more than 200 useful substances, promotes lifting, fights swelling, dryness, sagging.
Centella extract stimulates collagen production, smoothes wrinkles and rejuvenates the skin. Centella is also considered a very strong natural antibacterial agent – it heals, restores the skin, prevents the growth of bacteria. It has the ability to strengthen blood vessels, struggling with couperosis. Centella increases the rate of collagen production by 30%, thus making the fight even with deep wrinkles productive. Centella extract fights signs of aging, promotes healing of inflammation, protects the face from UV rays, free radicals and aggressive cosmetics.