TROPICANA, Anti-Aging Body Cream 250 gr.
$13.95
Description
 TROPICANA™
 Cream
 250 gram
 315 gram
 Thailand
Description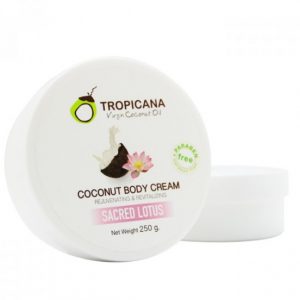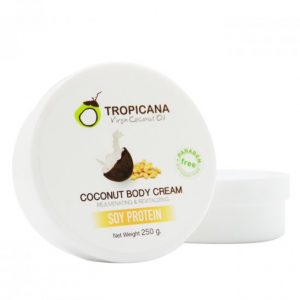 Description
Rejuvenating, nourishing, intensely moisturizing and regenerating, delicate coconut body cream with a bright caramel flavor of soy proteins from the most famous Thai manufacturer of coconut oil TROPICANA. The cream is very pleasant, instantly absorbed, leaving the skin smooth, soft, soft and velvety.
The aroma of the lotus is very gentle and delicate, suitable for people who prefer the light aromas of cosmetics. The cream prevents dehydration of the skin due to Babassu oil, visibly smoothes the skin texture, gives the skin a gentle glow and softness. Perfect for skin of any age and type. The cream can also be used to soften the hardened skin of the elbows and knees. Due to its rather light structure, the oil absorbs quickly and is excellent for skin care in the hot summer period.
Composition:
In addition to coconut oil, as the main component, cream with aromas of lotus and soy proteins contain:
Shea Butter (Karite) Butyrospermum Parkii (Shea Butter) reliably protects the skin from the negative effects of ultraviolet sunlight and has strong regenerating properties. Shea butter has anti-inflammatory properties, so it can be used to solve skin problems such as ulcers, acne and dermatitis. It penetrates deep into the skin and provides its layers with necessary beneficial ingredients. It is recommended for the care of fading and mature skin, helps to stimulate collagen synthesis. Regular use of Shea Butter preparations will improve skin tone, increase skin tone, make its texture even more dense, give skin elasticity and reduce wrinkles.
Cocoa Butter (Theobroma Cacao Seed Butter) – has a rejuvenating and toning effect on the skin, restores cell membranes, smoothes wrinkles, gives skin elasticity and smoothness. Cocoa butter maintains a hydrolipid balance of the skin, preventing its dryness and dehydration. It has an anti-inflammatory effect on the skin, prevents the exacerbation of dermatitis and eczema. Cocoa butter accelerates the resorption of acne scars and boils, burns healing, effectively fights with stretch marks and cellulite. Cocoa butter protects the skin from the effects of environmental pollution, from weathering and frostbite. The oil enhances the action of sun components, prevents the appearance of age spots and freckles.
Babassu oil (Orbignia Oleifera (Babassu) Seed Oil) – in composition close to coconut oil, but richer in unsaturated fatty acids: lauric, palmitic, myristic, stearic, caprylic, linoleic, oleic, etc. Suitable for all skin types. Babassu oil is an excellent emollient and is well distributed over the skin, absorbs quickly and leaves no greasy and oily feeling. It is considered one of the best oils that moisturize the skin, enhance its natural protective function and prevent skin dehydration. It gives the skin softness and silkiness, makes it supple, protects and soothes, has an antioxidant and anti-aging effect. Babassu oil is indispensable for softening dry skin of the feet and especially chapped heels, elbow skin, and hand skin care. Softens, protects hair, improves the structure of damaged hair.
Sweet almond oil (Prunus Amygdalus Dulcis Oil) – It has an excellent rejuvenating, softening and nourishing effect, eliminates inflammation, skin irritation, helps to maintain skin tone, smoothes the skin, improves skin tone, smoothes shallow wrinkles, makes smooth and smooth flabby skin. Contains vitamins B, vitamins A, E and F, as well as other components that have a beneficial effect on the hair and skin.
White willow bark extract (Salix alba (Willow) bark extract) – It has anti-inflammatory, antimicrobial, seborrhea, regenerating, contractive, antioxidant, tonic effect. Optimizes skin thickness, restores skin barrier functions and collagen synthesis. It improves skin condition, eliminating inflammation, boils, acne, pimples and warts.
Glycine max (Soy Proteins) – the latest technology in the production of anti-aging creams. They perfectly moisturize, rejuvenate, nourish and restore the skin at the cellular level. Their use gives the skin elasticity, smoothness and youth. Soybean proteins have shown their effectiveness in creams for rough and hardened skin of the legs and arms. In some cases, they can cope with mild forms of dermatological diseases. In eastern folk medicine, soy proteins are used to neutralize the painful symptoms that accompany menopause. Due to the high content of phytohormones, they have a positive effect on the female hormonal system.
Lotus (Nelumbo Nucifera) – strengthens skin cells, has a softening, soothing and moisturizing effect, cleansing, moisturizing, smoothing, stimulating and refreshing effect, restores the elasticity of the skin, gives the skin tone and elasticity
You have not viewed any product yet.