Description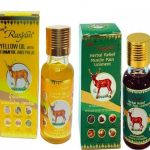 Description
Isme Rasyan Yellow Oil With Turmeric And Phlai
Oil for pain in muscles and joints contains extracts of unique medicinal plants and extract from the bones of a mountain goat. It is actively used to relieve pain in muscles, tendons and joints after injuries or heavy physical exertion. Relieves back pain with osteochondrosis, radiculitis, intercostal neuralgia. Promotes resorption of the intervertebral hernia. It stimulates blood circulation, promotes resorption of hematomas, accelerates the healing process of wounds, abrasions, burns. It is recommended for the prevention and treatment of varicose veins, thrombophlebitis, to relieve fatigue from the legs. It helps with headaches and dizziness, is used to treat skin diseases, relieves psoriasis, soothes the skin, relieves itching and peeling.
Structure:
Zingiber cassumunar (Purple ginger) – used to solve problems with joints and muscles, as it has painkillers, anti-inflammatory, antiseptic properties. Eliminates muscle cramps and sprains. Gives the skin elasticity and firmness, strengthens tissues, works well with cellulite. Purple ginger has no classic warming effect; it acts coolingly on the inflamed area.
Turmeric (Curcuma Longa (Turmeric) Root Extract) – rich in B and C vitamins, phosphorus, calcium, iron and iodine, turmeric has pronounced antioxidant properties, has a powerful anti-aging effect, restores the desired smoothness, firmness, firmness and elasticity to the skin. Thanks to the excellent emollient and soothing properties of turmeric, it quickly removes the main symptoms of acute inflammatory skin diseases. Turmeric also promotes resorption of acne, scars, bruises and traumatic tumors. It has a whitening effect.
Turmeric zedoaria, or citric (Curcuma zedoaria Rose., Citron root), "Indian saffron" – citron root oil is used as a digestive stimulant, rubbing it into the stomach. In China, it is used as a unique remedy for female ailments. Also, the cedoaria is an antidote to all poisons: the poison of snakes, aconite and others. The citrus root has a fresh, woody-spicy aroma with a touch of camphor and a gorky-burning taste.
Registration number: G 143/56.
Mode of application:
Apply balm to problem areas and massage gently for 2 to 3 minutes.
It is recommended to use 3 – 4 times a day.
For headaches, rub balm into the temporal and occipital areas.
FOR OUTDOOR USE ONLY!