Description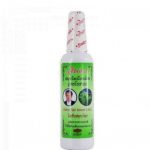 Description
Herbal medicated JINDA Serum-Spray in combination with shampoo and conditioner Jinda stops hair loss, strengthens the root, stimulates the growth of new hair, eliminates dandruff and fungus.
Ingredients: litsey sticky, rice milk, vitamin B5.
Adhesive Litsea, Latin name Litsea Glutinosa or baimisod – Bai Mee Sod – herb, the main extract in shampoo. It has antibacterial, soothing and emollient properties.
Rice milk nourishes, moisturizes, soothes and softens the skin and hair. Stimulates blood circulation in the hair roots. Regulates sebum secretion, protects the scalp. Promotes the treatment and restoration of the structure of the trunks of damaged hair.
Vitamin B5 (the second name pantothenic acid) speeds up the metabolism and nourishes the hair follicles.
Method of application: after using shampoo and conditioner JINDA (Baimisot), apply a sufficient amount of lotion on moist clean hair, distribute over the entire length of hair, rub into scalp for 2-3 minutes, leave to dry completely. Do not flush. Can be used daily.