Description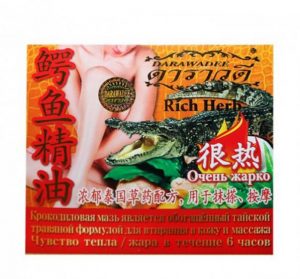 Description
Darawadee Slimming Cream has a powerful warming effect that lasts up to 6 hours! Thanks to the special enriched formula of tropical herbs and plants, the volume of problem areas (abdomen, hips, etc.) is significantly reduced. Active substances deeply nourish cells, improve blood microcirculation, accelerate metabolism, which helps to eliminate the effect of orange peel. The complex of vitamins and minerals actively fight cellulite, smoothing the bumpy surface of the skin, making it smooth, supple and elastic. Since the cream has a pronounced warming effect, it perfectly helps with muscle pain and bruises. The process of cell renewal is stimulated, the pain passes quickly.
Ingredients: natural oils, collagen, carnitine.
Method of application: apply the cream with massage movements on the skin and rub for 3-5 minutes until completely absorbed. Do not rinse off the cream!
Attention! Do not apply to damaged areas, mucous membranes, face, intimate areas. An allergy test is recommended. The ointment has a pronounced local irritating effect, do not use it before a bath, sauna, or intense physical exercise.