Description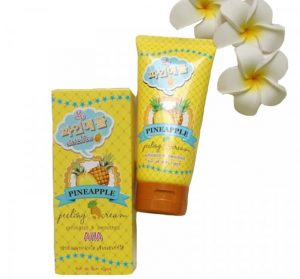 Description
Pineapple peeling cream Eliza Helena with ANA acids – delicately helps to remove dead cells, exfoliate dead skin particles of the epidermis, cleanse pores and gently "polish" the skin.
The composition of the cream includes microcrystalline cellulose – cleanses from impurities, absorbs sebum, exfoliates dead skin cells, smoothing its surface and improving complexion.
Peeling begins to act upon contact with the skin, forming "pellets" that provide a gentle massage. After using the peeling, the skin becomes smoother, the cleansed pores narrow, the dull color and peeling of the skin disappear. The face shines with cleanliness and freshness.
Active components:
Fruit ANA acids – gently polish dead skin cells, deeply cleansing pores, removes excess sebum, smoothing the skin structure, smoothing out small defects. Washes dirt from the deeper layers of the skin. Improve and even out skin tone, stimulate cell renewal. Peeling effectively combats age spots and acne.
Due to the high content of Vitamin C, the product has anti-inflammatory properties, improves skin immunity, protects it from the aggressive effects of free radicals, and also gently brightens pigmentation.
Suitable even for dry and sensitive skin.
Application Method:
Apply the product on dry cleansed skin with gentle massaging movements until the "pellets" appear, then rinse off the product with warm water.
Apply 1 – 2 times a week for oily skin, 1 time per week for dry skin.