Description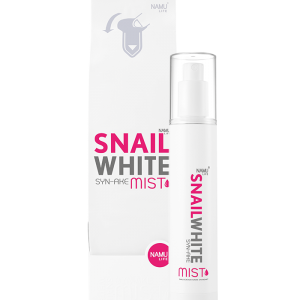 Description
NAMU LIFE SNAILWHITE SYN-AKE MIST the concentrated water-based essence can effectively and deeply repair your skin, thanks to its nano-scale spray injection that enhances the essence particles to penetrate gently and deeply into the skin for better absorption. The powerful snail secretion extract, Syn Ake and Alpha Arbutin help to restore your facial skin for the effect of resilience and firmness. Compared to other whitening substances, NAMU LIFE SNAILWHITE essence mist is much more effective in minimizing the appearance of dark spots, blocking the formation of Thyrocines enzyme- the cause for dull and unpleasant skin. Concentrated with SYN-AKE, a small peptide that mimics the structure of snake's venom, which is effective in quickly minimizing fine lines at its root by relaxing the tense facial muscles. The SYN-AKE is clinically proven to be highly save, and is therefore widely used to restore facial skin for the result of noticeable firmness and youthful appearance. (Similar to BOTOX injection)
Direction
Apply NAMU LIFE SNAILWHITE SYN-AKE MIST before your routine facial cream both in the morning and at night. Pat gently to allow the essence mist absorb into your skin. Also spray after make up for long-lasting wear, or when needed.
Nourishing Essence Mist for brightening, firming and smooth skin
* users can actually feel the difference in their skin within the first week of application.