Description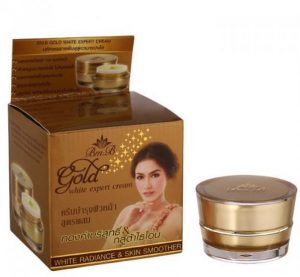 Description
A luxurious cream with a mass of beneficial components will make your skin flawless! The cream stimulates the regeneration and smoothing of wrinkles, moisturizes for a long time, protects the skin of the face from external aggressive factors, fights acne, with regular use of the component, scars also dissolve. Also, the cream stimulates skin renewal at the cellular level, saturates the tone with brightness and natural radiance, increases the tone.
Composition:
Bioactive gold – increases the ability of the skin to absorb the active substances, forms a natural protective film to save the natural moisture of the skin, to facilitate the oxygen saturation of the skin. In combination with various components of plant origin, bio-gold promotes cell regeneration, improves skin elasticity and firmness, and protects the skin from premature age-related changes.
Arbutin is a natural ingredient derived from the leaves of berries (cranberries, blueberries) and some types of pears. Reduces the synthesis of melanin with hyperpigmentation.
Glutathione is the most powerful antioxidant of all known in the cosmetic industry. Neutralizes free radicals and peroxides, which contribute to the activation of tyrosinase and the formation of melanin. It plays a crucial role in the defense of the body against free radicals, toxins, various types of diseases and viruses, as well as protects against the damaging effects of urban ecology and electro-magnetic radiation.
Hyaluronic acid – accelerates skin regeneration and plays an important role in the hydrodynamics of tissues. One molecule of hyaluronic acid is able to hold around a thousand water molecules around itself, due to this property, the effect of powerful moisturizing is achieved.
Licorice root (liquorice) – has anti-inflammatory and antimicrobial effect, has a whitening effect, stimulates the formation of collagen, prevents the formation of wrinkles, prevents the appearance of age spots.
Snail mucus filtrate – protects the skin from ultraviolet radiation damage and slows aging. Reduces the depth and severity of facial wrinkles, smoothes the skin relief. Restores elasticity and firmness of the skin.
The main properties of the cream:
return to the skin of natural color, reducing hyperpigmentation;
restoration of skin elasticity;
alignment of the skin relief;
elimination of skin laxity and wrinkles;
moisturizing.
Mode of application:
Use as a night cream to nourish and improve the skin. Apply a minimal amount of cream to cleansed and dry skin and spread it over the whole face with light massage movements. We recommend you to make yourself a small face massage with clapping movements of your finger tips.