Description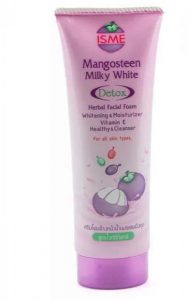 Description
Light facial wash with extract of mangosteen and vitamin E is aimed at combating skin pigmentation.
Cosmetic brand ISME Cosmetic specializes in the production of effective beauty products based on various plants.
Mangosteen is a unique fruit that has many beneficial properties and is also a source of skin-friendly substances. Cosmetic creams, masks, skins with the addition of mangosteen extract – ideal for problem skin.
Moisturizer for washing perfectly whipped in a dense foam, does not dry the skin and is easily washed off with water.
In addition to the main ingredients, they include mulberry extract, which helps to lighten the pigmentation. Thus, the foam is suitable for combating age-related changes. And vitamin E perfectly moisturizes the skin, making it clean without feeling of tightness and dryness.
The foam has the following properties:
soothes and restores the skin;
relieves pigmentation, has brightening properties;
helps in the fight against acne;
perfectly cleans pores, eliminates black spots;
moisturizes and nourishes.
Mode of application:
Squeeze a small amount of the foam on your hands and massage into the face wetted with water. Then wash your face thoroughly with water. Great for oily and problem skin.