Description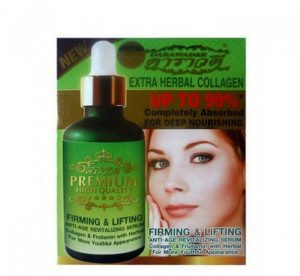 Description
Serum is suitable for all skin types, has a pronounced anti-aging effect, restores skin tone, elasticity and improves complexion. Also, the drug activates the internal reserves of the skin, prevents the appearance of wrinkles, softens, saturates with vitamins and protects the skin from the negative effects of the environment.
The composition of the serum includes extracts of papaya, noni, moringa, as well as many other medicinal Thai plants and collagen. The action of these extracts together has a wonderful healing and rejuvenating effect on the skin.
Papaya has long found its place in cosmetology. First of all, because of the unique enzyme papain contained in it. This substance is a very powerful antioxidant. After its action, the skin becomes noticeably younger. In addition, papain has the ability to break down the keratin protein, helping to get rid of flaky dead skin. This wonderful enzyme also helps in the fight against freckles and age spots, brightening them, and in the "battles" with acne, providing a drying effect. Papaya is also a source of vitamins A and C.
Noni has recently gained popularity with cosmetologists. But he found it deservedly, because the juice of this plant contains a huge amount of vitamins C and E.
Vitamin C, being an acid in nature, helps eliminate acne, and vitamin E is simply indispensable for dry skin and mature skin, because its main action is to strengthen cell membranes.
Phospholipids, the "building bricks" of our skin's cell membranes, absorb vitamin E, become stronger and less susceptible to the damaging effects of wind, frost and high temperatures. The skin becomes more toned, smoother and younger.
Moringa is a source of various fatty acids (stearic and myristic, peanut and behenic). They nourish the skin, help smooth out wrinkles and improve complexion. In addition, behenic acid is an excellent antiseptic!
Collagen is the main skin protein. Absorbing it, the skin is smoothed and tightened. The anti-aging effect is noticeable after 4 – 5 applications.
Method of application: apply two or three drops of liquid to clean skin of the face and décolleté. Then gently massage it with your fingers until the product is completely absorbed. It also serves as a permanent makeup base.
It is recommended to use serum twice a day (morning and evening).