Description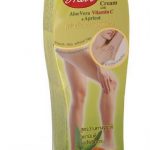 Description
The latest development from ISME.
The cream will help to easily remove unwanted hair. Suitable for all skin types.
This cream is specially designed for depilation, contains vitamin C, as well as extracts of aloe vera, apricot kernels. Unnecessary hairs are removed quickly and accurately. A special cream formula inhibits hair growth on the depilated part, making them thinner and destroying the hair follicle, which leads to a significant slowdown in hair growth.
Ingredients: Deionized water, Beeswax, Castor oil, Glycerin, Apricot kernel oil, Vitamin C, Aloe Vera extract, Mineral Oil, Cety alcohol, Stearyl alcohol, Calcium hydroxide, Thioglycolic acid, Potassium hydroxide, Ceteareth-20, Fragance, Polyquaternium -7, DMDM Hydantoin, Dimenthicone, EDTA, Certrimonium chloride, Propylparaben, Methylparaben.
Method of application: apply the product on the depilated part of the body, wait 10 minutes (for arms and legs) or 20 minutes (for the armpits and bikini area), remove the remaining cream with undesirable hairs with a paper towel or towel. Rinse application areas with warm water.
Attention! Do not use alcohol-containing deodorants after using the cream. Avoid contact with eyes. Keep out of reach of children.
Recommendations: If after using the cream after 10 minutes you feel discomfort or skin irritation, immediately remove the cream and stop using it. Do not use alcohol-based deodorants after applying the cream. Avoid contact with eyes, keep out of reach of children.