Description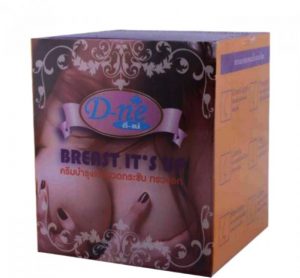 Description
Breast enlargement cream Breast It's Up D-Ne, 400 gr.
The active formula of Breast It's up D-ne 100% Natural Breast Enlargement Cream helps to quickly improve breast shape and increase volume. With daily use of the cream in the morning and evening, the results will be noticeable after a month. Soft and gentle cream is easily absorbed, leaves no greasy residue, has a light, pleasant smell and is hypoallergenic. Cream for breast augmentation contains plant extracts that have a beneficial effect on the female body. The main component of the cream, Candol's pueraria, contains natural phytoestrogens, the natural equivalent of estrogen, a female hormone, and has long been used in traditional medicine and cosmetology in Asia to increase breast and stabilize the hormonal background and its associated disorders in women. African Kigelia activates the production of collagen and elastin, so that the breast acquires elasticity and a beautiful shape, as well as the production of steroid compounds that contribute to breast enlargement. Witch hazel extract is rich in flavonoids and tannins, which soften and cleanse the skin, make it silky.
Ingredients: Extracts of Vorontsov racemum, mountaineer spiky, lobed pueraria, pomegranate, meadow clover and vitamin E.
How to use: Apply a small amount of cream to clean, dry breast skin. With the fingertips of both hands, gently rub the cream into the skin from the base of the chest to its inner side, then to the top in a circular motion, and then from the base of the chest to its upper part. Massage should be continued for 5-10 minutes until the cream is completely absorbed. Removing cream residues is not recommended.