Description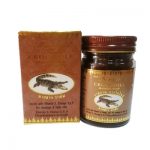 Description
Isme Rasyan Crocodile Balm
Crocodile massage balm Isme Rasyan Crocodile Massage Balm is made on the basis of crocodile 100% fat and a complex of medicinal herbs to strengthen and prevent diseases of joints and ligaments, relieve muscle tension, relieve pain and inflammation.
The balm consists of natural components, including the active ingredient – crocodile fat, containing vitamins A, E, omega-3 and omega-6 fatty acids, which significantly moisturizes and nourishes the skin, restores excessively dry skin, promotes healing of wounds, burns, and relieves irritation skin. The balm exhibits antibacterial, anti-inflammatory properties, as well as contribute to muscle relaxation, relieves muscle tension.
Helps to restore musculoskeletal functions after injuries and fractures, indispensable for bruises and sprains. Well suited to people leading an active lifestyle.
relieves inflammation
eliminates pain
enhances blood circulation
accelerates the healing of ligaments and muscle tissue
promotes bone fusion
Method of application: apply 2 – 3 times a day on damaged skin.