Description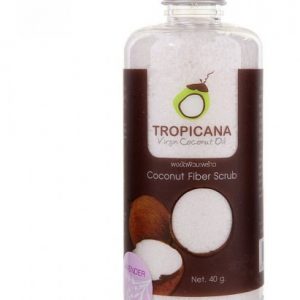 Description
Rich in lauric acid and fatty acids, essential for human skin, TROPICANA coconut scrub scrub gently and effectively eliminates peeling of the skin.
Lauric acid, derived from coconut oil, has antibacterial, antioxidant and antiviral properties, and is used to solve problems with dry, irritated, sensitive, flaky skin. Lavender oil, which is impregnated with coconut shavings, has relaxing properties.
Lavender is great for all skin types, including inflamed, sensitive or acne. Lavender oil helps soothe dermatitis. It is recommended for flaccid skin, for the treatment of acne and for infectious skin diseases.
A gentle, all-natural scrub from coconut chips with Lavender oil is also used in the treatment of post-acne spots, stretch marks and scars, eliminates itching and minor skin rashes. TROPICANA scrub is so soft and gentle that it can be used for both face and body.
Regular use of natural scrub gives the skin a beautiful and healthy look, reduces age-related changes of the skin, tones the skin.
The aroma of Lavender will have a relaxing effect every time you use a scrub!
Composition:
Coconut, coconut oil, Lavender oil 100% natural product!
Mode of application:
Mix 1-2 tablespoons of scrub with TROPICANA coconut oil. Apply a coconut scrub with a massaging motion on the wet skin of the face and body. You can leave the mixture in the form of a mask for 5-15 minutes. Wash off with warm water.