Description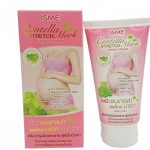 Description
Centella Stretch Mark Repair Cream
Stretch Mark Recovery Cream with Centella Asiatica is a nourishing cream formula containing Centella Asiatica extract to prevent and remove stretch marks and scars.
Composition: Extract from centella leaves is the main composition of the product. Centella leaves increase the elasticity of the skin, while stimulating the production of collagen and elastin, which, in turn, starts the process of cell repair, making the skin smooth and supple.
Enrichment with B-glucan helps prevent wrinkles and deterioration of the cells in your skin.
Vitamins B3, C, E moisturize and nourish the skin, making it smooth, delicate and natural. Due to its composition, Isme cream is one of the best creams for stretch marks during pregnancy.
Method of application: apply the cream on the stretch area and rub into the problem area with massage movements 3-5 minutes. It is recommended to use the cream twice a day after bath.