Description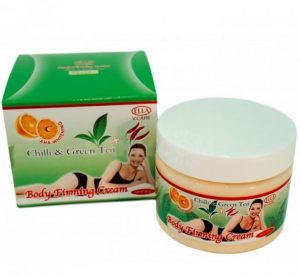 Description
ELLA V. Care Body Firming Cream Chilli & Green Tea
Anti-cellulite cream with chili and green tea. The cream works by burning fatty acids and releasing new energy in the skin. This is a bio-technological treatment for cellulite, containing a new substance for weight loss, which helps to reduce the manifestations of cellulite.
The main components:
Green tea extract – has a unique composition, which includes dozens of bioactive substances, vitamins and amino acids, has anti-inflammatory and anti-radiation effects, reanimates damaged skin cells, relieves acne and redness, slows down the aging of the dermis, improves the condition of the skin, promotes rapid weight loss.
Thai pepper – accelerates blood circulation in tissues, due to which the skin warms up, promotes the release of endorphins, relieves pain, increases skin resistance to stress, contains a lot of vitamin C, activates metabolism and breaks down fats, and also removes toxins from tissues. It is appreciated for the fact that it contains capsacin – a special natural substance that can suppress the growth of new cells of adipose tissue, fights cellulite.
Caffeine – stimulates cellular metabolism, acts as a lift on the skin, removes excess fluid from cells, quickly eliminates cellulite, breaks down subcutaneous fat, while tightening tissues, smooths wrinkles on the body and removes swelling under the eyes.
Orange extract – perfectly tones tired, saggy skin, removes harmful elements from tissues, triggering cell regeneration processes, eliminates the signs of cellulite, stops wrinkles, helps to forget about skin pigmentation, tightens pores and relieves acne, stimulates the production of own collagen in the body.
Mode of application:
It is best to use a cellulite cream on steamed skin – after a shower, bath, or after taking baths. Apply strong cellulite cream to the steamed skin with strong rubbing massage movements. Feel the burning sensation. Massage until completely absorbed. Wash off after 1.5 – 2 hours. It can be used daily morning and evening.