Description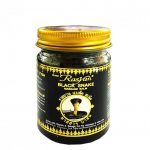 Description
Isme Rasyan Black Snake Massage Balm
Snake black massage balm is made on the basis of 100% snake fat and a complex of herbs for the treatment and prevention of myositis, neuralgia, osteochondrosis, and pain and inflammation.
Balm with cobra fat is rich in vitamin E, as well as fatty acids.
After application, the balm is quickly absorbed without leaving greasy marks. Active substances penetrating the skin stimulate the blood supply to tissues, relieve pain in muscles and joints.
Fatty Acids Omega-3 and Omega-6, mineral components strengthen the skin structure, contribute to the treatment of myositis, neuralgia, rheumatism and other diseases of the musculoskeletal system. Massage will accelerate the absorption of the balm, enhances the effect of its use.
Helps to restore musculoskeletal functions after injuries and fractures, indispensable for bruises and sprains. Suitable for older people.
Ingredients: Camphor, borneol, black snake extract (crushed bone, snake hood, snake skin), coconut oil, bamboo ash.
Method of application: Apply to a problem place and massage a little.