Description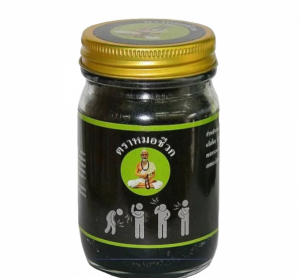 Black Balsam can be said to be a panacea for diseases, as it contains 108 healing components. Today, no one can define a clear composition of almost all Thai balms, as many medicinal herbs grow only in Thailand and on the Burmese border. The composition of the soil with unique minerals and the climate of the area leads to the formation of unique components that absorb medicinal herbs.
The high efficiency of Thai balms is determined by the active substances that are carried by blood throughout the body and reach every organ. Balm is used only outside. It is necessary to apply a thin layer on the desired area and grind a little.
It is like women and men. Thanks to:
Black Galangal (Kaempferia parviflora), which when applied inside, reduces fatigue, improves metabolism, and also participates in preserving the family – helps to remove hormonal causes of infertility, normalizes the female reproductive system, restores the menstrual cycle, removes pain during urination.
For older people used in the treatment of coronary heart disease, hypertension, gout. Used in the treatment of diseases of the digestive system and the duodenum.
Borneol (Borneol) – a highly soluble molecular alcohol in oil, is simply an indispensable ingredient in Black Balm for modern humans. Students, business people – high speed of life, stress. Borneol, by stimulating the adrenal cortex, restores the endocrine system, has an antidepressant effect, reduces the effects of stress and its effects on the body, is indispensable for nervous exhaustion.
It is used for overexcitation, loss of consciousness and convulsions. When taken orally, borneol has a carminative effect, stimulates heart activity, improves blood circulation. When taken externally – used to treat bronchitis, with rheumatism.
Black Balsam is suitable for women at any age. All modern and expensive spa salons repeat the composition of anti-cellulite oils, which include the composition of Black Thai Balsam.
Composition:
Lemongras essential oil (Lemongras) is used in dermatology and cosmetology. It reduces wrinkles, cleanses and evens the relief of aging skin. Removes warts, calluses and eliminates coarsening of the skin. Lemongrass helps with herpes, reduces skin itching.
Turmeric, Tumerik (Curcuma Longa) strengthens hair follicles, eliminates dandruff and helps fight skin diseases. Treats burns. Included in the masks, lotions and anti-aging creams. In cooking, they are used for cooking meat and first courses (known as curry spice).
The essential oil of Gaultheria (Gaultheria) and Sarala are the active ingredients of Black Balsam – they are used in the treatment of venous and varicose diseases. It is used as a universal painkiller.
A special place is occupied by "green oil", which are part of Black Balsam – it is prepared as a mixture of extracts of more than 20 medicinal Thai herbs.
Black Balsam is used for tumor diseases. Herbs that are included in the balm have a pronounced antioxidant effect.
The spectrum of diseases that it covers is very wide: impaired circulation of the limbs, pain in the joints, reduces the volume of intervertebral hernia, is used for paralysis.
Mode of application:
In diseases of the musculoskeletal system, gently rub balm into the affected area until absorbed. Use balm 2-3 times a day.
For colds, they are used as inhalations and rubbing. A drop of balm is added to hot water (do not bring to a boil) or herbal extract and cover with a towel.
Contraindications:
Individual intolerance. Hypersensitivity. Avoid contact with mucous membranes and eyes. Keep out of the reach of children.