Description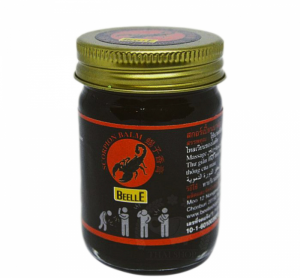 Beelle Scorpion Balm contains over a hundred different unique medicinal herbs, coconut oil and Scorpion venom extract. Scorpio venom significantly accelerates the process of penetration into the body tissues of all the beneficial components of the balm and accelerates their therapeutic effect.
Does not cause severe burning sensation.
Indications for use:
It has an analgesic, anti-inflammatory and decongestant effect.
accelerates the process of bone fusion in fractures.
treats bruises, sprains, dislocations, arthritis, arthrosis, osteochondrosis, rheumatism, sciatica.
helps with inflammation of the joints, strengthens bones in osteoporosis.
stops the increase in joints with gout, inhibits the deposition of salts.
improves blood circulation, is used to treat varicose veins and heel spurs.
The balm is effective for insect bites.
relieves itching, pain and swelling.
Ingredients: Coconut oil, medicinal herbs and Scorpio venom extract.
Method of application: it is recommended to apply the balm with massage movements 2 – 3 times a day on a clean body and rub until completely absorbed.
Contraindications: hypersensitivity, individual intolerance. Balm should not be applied to damaged skin and wounds. Avoid contact with eyes and mucous membranes. For external use only.