Description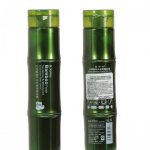 Description
JLXIAN Bamboo Fresh Exfoliating Bath Lotion softens and moisturizes.
A versatile moisturizing and soothing lotion with 99% fresh bamboo extract. Bamboo extract gives the skin as deep hydration as possible, improves elasticity, smoothes wrinkles, strengthens elastin fibers, vitamins and minerals, strengthens the skin's immune defenses, minimizes the effects of solar ultraviolet radiation and other external irritating factors.
Method of application: apply lotion to the body with gentle massage movements.