Description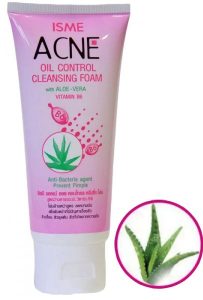 Description
Soft foam with aloe extract against oily sheen, black spots and skin imperfections. Effectively and deeply cleanses the skin, tightens pores, normalizes the sebaceous glands. Natural aloe extract moisturizes the skin and prevents the effect of tightening after washing. Vitamins B6 and C soothe the skin, lighten traces of acne. Facial wash deeply cleanses the pores, removing bacteria and excess fat, accelerates the healing process. Your skin shines with purity and health.
Composition:  Triclosan, vitamin B6, aloe vera juice, myristic acid.
Chemical composition: water, Miristic acid, Palmitic acid, Stearic acid, Butilene gliciol, Sorbitol, Potassium gidroxide, Glicol distiarate, Sodium laureth sulfate, Parfum (farangce), Triclosan, Propilparaben, Tetrasodium EDTA, Piridoxine YCI , Diazolidinyl urea, Disodium EDTA.
Mode of application:
Apply a small amount of foam to wet skin, gently massage the skin of the face until foaming and rinse with warm water.