Description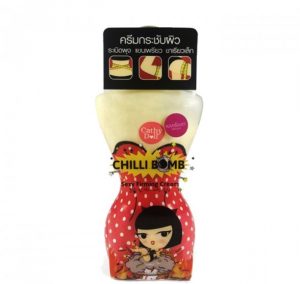 Description
Cathy Doll Bomba Chili Bomb Strengthening Cream with heat, like in a sauna and natural components, effectively burns fat, leaving only an ideal body shape.
A cream saturated with chili extract will help to create the desired shape, get rid of excess subcutaneous fat and even out annoying cellulite. The cream was created using a special capsule technology Sliming Micro-Beads, which allows you to deliver substances to the deep layers of the skin, increasing and accelerating the effect of the active components of the cream. In addition to the chili extract, the cream contains caffeine, jojoba and vanillin esters, Shea butter, horse chestnut, ivy extracts, L-carnitine, collagen and vitamins A, C, E.
Composition:
AHA triglycerides of caprylic and capric fatty acids derived from coconut oil to slow the loss of water from the skin.
Jojoba oil restores skin balance, is responsible for hydration and makes the skin soft and smooth.
Coenzyme Q10 is an antioxidant. which will reduce wrinkles and slow down the degeneration of skin cells that suffer from sunlight.
Shea butter helps to increase moisture retention, will help with dry skin, rash, redness and itching.
Ingredients:  Aqua, Paraffinum Liquidum, Glycenrin, Isoproryl Palmitate, Silica, Caprylic/Capric Triglyceride, Glyceryl Steaeate, PEG-100 Stearate, Cetearyl Alcohol, Caffeine, Dimethicone, Diazolidinyl Urbomer, Triethanolamine, Jojoba Esters, Lactose, Vanillyl Butyl Ether, Methylparaben, Propylparben, Fragrance, Collagen, Ubiqinone Q10, Vitamin A Palmitate, Vitamin C, Vitamin E, Thiamine, L-Glutathione, Arbutin, Dipotassium Glycyrrihzate, Alpha Hydroxy Acid, BHA, Butyrospermum Pakii (Shea Butter) Extract, CI 16035, CI 19140, Capsicum Frutescens Fruit Extract.
Method of application: The cream is applied to problem areas (hips, buttocks, upper arms, tummy and sides) and massage movements are performed for 15 to 20 minutes. To achieve the best effect, the cream is recommended to be used daily in the morning and in the evening.