Description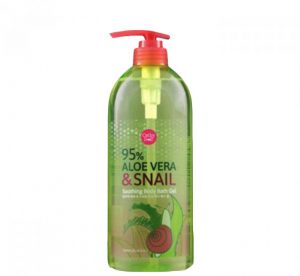 Description
Cathy Doll Aloe Vera & Snail shower and bath gel – suitable for all skin types, but also provides care, protection and restoration "on all fronts". Amazing aroma, excellent foaming, infinitely careful attitude even to the sensitive areas of the body make the tool a favorite of beautiful women from Southeast Asia. Innovative technologies and high-quality components used in the manufacture of the gel make it pleasant to use and very effective: after a few days of application, you will notice the radiance of the skin, its softness, elasticity and tenderness, accelerated healing of wounds, pimples and abrasions, a brighter, more even tone . The product is presented in a convenient bottle with a dispenser.
Aloe vera contains more than 200 useful substances, among which are amino acids, vitamins, antioxidants, trace elements necessary for the health and beauty of the skin. This component is traditionally included in almost all cosmetics, because its spectrum of action is extremely large: from eliminating dryness and redness to smoothing wrinkles! One of the secrets to Cathy Doll's gel effectiveness is its high percentage of aloe in its composition.
Snail mucus perfectly softens, smoothes and moisturizes the skin, gives it a healthy glow, even tone, firmness, helps get rid of post-acne, acne, small scars, protects against aging, accelerates regeneration, and fights against irritations.
Method of application: use as a regular shower gel.