Description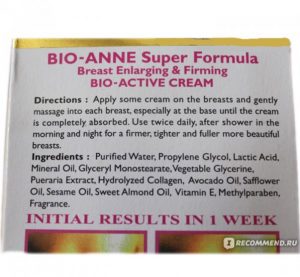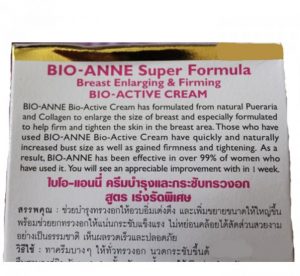 Description
Extra Formula Natural Firming Breast Cream (Bust) includes herbal ingredients that have a beneficial effect on the condition of the skin of the breast. The tool provides cell nutrition, improves elasticity and restores skin smoothness. A firming breast cream helps cope with age-related changes in the mammary glands.
Pueraria Mirifika grows only in Southeast Asia, the Northern and Western regions of Thailand and is famous for its anti-aging properties.
The roots of Pueraria Mirifika contain natural hormones (phytoestrogens), which have a beneficial effect on the female body and are used in the manufacture of products used for non-surgical enlargement, increase elasticity and improve breast shape.
Ingredients: pueraria mirifica extract, collagen, avocado oil, sesame oil, safflower oil, sweet almond oil, vitamins B, A, E, F, vegetable glycerin, lactic acid.
How to use: Apply a small amount of cream to clean, dry breast skin. Apply a small amount of the product to the skin and rub in with light massaging movements. Massage should be continued for 5-10 minutes until the cream is completely absorbed. Removing cream residues is not recommended. Breast massage is recommended to be repeated regularly twice a day – in the morning and in the evening.
Contraindications:
violation of the integrity of the skin;
pregnancy;
lactation;
mastopathy
benign and malignant tumors of the mammary glands.