Description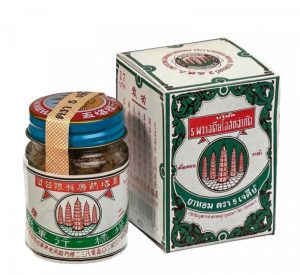 Description
Ya Hom Powder Five Pagodas is a time-tested remedy of traditional Thai medicine. The powder is used to quickly relieve symptoms of poisoning and a hangover syndrome, the powder neutralizes nausea and vomiting. In addition, the powder is used to relieve fatigue, a feeling of "overwhelming", recovery of strength and performance.
The only drawback of the herb-based drug Ya Hom is its somewhat unpleasant taste and a sharp eucalyptus-spicy smell.
Ingredients: Wrinkled Agastarchis, Chinese Tea, Chinese Cinnamon, Hoof, Licorice Root, Cloves, Ginger, Scarlet Tree Extract, Wood angelica.
100 g of powder contains:
Agastarchis Wrinkled (Agastache rugose (Fish, et Mey.)
Chinese Tea (Camellia Sinensis, O. Kuntze) 7.1 gm.
Chinese Cinnamon (Cinnamomum Cassia Presl) 7.1 gm.
Siebold's Hoof (Asarum sieboldii) Miq. 2.3 gm.
Licorice root (Glycyrrhize glabra L). 4.8 gm.
Clove (Eugenia caryophyllata Thumb). 7.1 gm.
Spiral Ginger (Saussurea lappa Clarke) 7.1 gm.
Scarlet Tree Extract (Aquilaria agallocha Roxb.) 7.1 gm.
Angelica forest (Angelica anomala Lallern) 3.5 gm.
Mode of application:
Dilute 1 teaspoon of powder in a glass of warm water and drink.
Take 3-4 times a day.
Children under 12 years old breed 1/2 teaspoon.
Spoon included.
You have not viewed any product yet.