HAW PAR, Tiger Balm Neck & Shoulder Rub Boost 50 ml
$10.92
Description
 HAW PAR™
 Balms
 50 gram
 120 gram
 Thailand
Description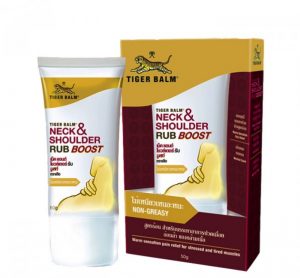 Description
Tiger Balm Neck & Shoulder Balm for neck and shoulders is a powerful pain reliever with a special formula designed to effectively and quickly relieve pain in the shoulders, neck, upper back and muscle pain. This balm is able to relieve pain in different parts of the musculoskeletal system. Indispensable for diseases of the joints (arthritis, arthrosis, osteochondrosis, polyarthrosis). Effectively treats joint tumors. Due to its analgesic properties, it provides relief from severe pain during backache, radiculitis in the lumbosacral region, aches in muscles and joints, rheumatism and back pain. Effective in the fight against bursitis – an unpleasant and painful inflammation of the joint bags, in which fluid accumulates in the cavity.
This tool is indispensable for athletes, it reduces muscle tension, if applied before training. The use of balm after intense competition will help alleviate the condition with the resulting krepature, inflammation of the joints and muscle tissue is faster. The balm is effective for muscle sprains, to relieve muscle tone, accelerates the resorption of hematomas. It anesthetizes well with various types of injuries – bruises and sprains.
This tiger balm is especially recommended for those who spend a lot of time sitting at the table (at the computer) and who suffer from pain, fatigue and tension in the shoulder girdle, in the neck or upper back. Balm begins to work and relieve pain immediately after application. It has a pleasant menthol-mint smell, in addition to the mentioned components, it also contains camphor, cinnamon, cayaput and cloves. These ingredients enhance blood flow and microcirculation, i.e. possess a warming and "distracting" effect, helps resorption of bruises and bruises.
Thanks to the non-greasy texture of the tiger balm for the neck and shoulders, it is easy to apply, quickly absorbed and leaves no residue on clothes, and the soothing fresh aroma of the balm additionally helps to relax. The balm works for 12 hours. Heats the problematic area of the body for a long time from 3 to 6 hours.
Indications for use:
help warm up muscles before training or physical activity;
quickly relieve pain in overtrained muscles;
quickly relieve pain in the neck and shoulder;
will relieve pain with bruises and will not allow a hematoma to form;
will relieve pain with arthritis, arthrosis, osteochondrosis, rheumatism;
relieve back pain from sedentary work;
will relieve pain when a nerve is pinched;
relieve pain from sprains and tendons.
Contraindications: hypersensitivity, individual intolerance. Do not use for children under 7 years old. Avoid contact with wounds and damaged skin. Avoid contact with eyes and mucous membranes.
Method of application: balm should be applied 2-3 times a day to problem areas. Rub with massage movements for 2-3 minutes. For injuries – rub balm on damaged areas 2-4 times a day.
Do not flush! Upon contact with water, the warming effect is enhanced. In this case, you need to remove the balm with a dry paper towel, apply any oil, get wet again and apply aloe vera gel or any other soothing cream or oil.
You have not viewed any product yet.