Natural herbal Phytopreparation Hemorin Tablet
$10.97
Description
 HEMORIN™
 Capsules
 150 gram
 100 capsules
 Thailand
Description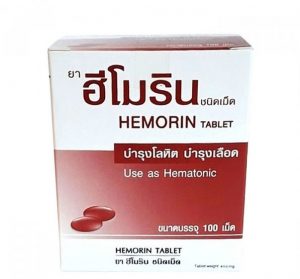 Description
HEMORIN Tablet, a natural herbal medicine, is actively used to cleanse and improve blood quality, and to prevent cardiovascular diseases. Hemorin contains in its composition a complex of unique plants collected in subtropical forests. The drug contributes to the complex purification of blood, removes toxins and pathogenic bacteria, normalizes blood cholesterol, and increases hemoglobin in the blood. The drug normalizes blood pressure, evens heartbeat, enriches blood with oxygen, improves blood microcirculation in tissues, relieves vasospasm, restores the structure of even the smallest capillaries. Helps with atherosclerosis, diseases of the cardiovascular system. It can also be used in the treatment of psoriasis, dermatitis and allergies. Hemorin cleanses the blood with barley, acne and fungus on the skin.
Recommended by:
for the prevention and treatment of iron deficiency anemia
with malnutrition and nutritional deficiencies
to restore blood composition after blood loss
to improve blood function
with menstrual pain
nourishes the heart and is used as a stimulant
Contains a complex of herbs – natural sources of iron.
Main cast:
Bixa orellana, or Annato – Bixa orellana – 20 mg.
Safflower dyeing (wild saffron) – Carthamus tinctorius – 20 mg.
Iron tree Mezuya or Ceylon iron tree – Mesua ferrea – 20 mg.
Clove – Syzygium aromaticum – 20 mg.
Alternahera Betzica – Alternanthera bettzickiana – 20 mg.
Bixa Orellana (Annato, Fondant tree) – has a large number of useful properties, which allows it to be widely used in cooking, cosmetology and medicine. It has antiseptic, anti-inflammatory properties, it is used in the complex treatment of diseases such as skin inflammation, measles, smallpox, respiratory diseases, angina pectoris, headache, prostatitis.
Сarthamus Tinctorius (Safflower) – is especially effective for cardiovascular diseases. It improves blood composition, normalizes blood circulation, is indicated for hypertensive patients to normalize blood pressure, prevents stroke, and is a prophylaxis of neoplasms. Safflower has anti-inflammatory and antibacterial properties, it is recommended in the treatment of psoriasis.
Mesua ferrea (Mezuya, Iron Tree) – is actively used in medicine, has antiseptic, anti-inflammatory, antibacterial properties. Effectively treats skin diseases such as scabies, acne, rashes and abscesses. It has a rejuvenating effect, improves complexion. It is used as a recovery agent after operations.
Syzygium aromaticum (Clove) – known for its disinfectant properties, treats various intestinal infections, is an anthelmintic. Clove is an excellent remedy for hypertension. Effective for nervous disorders. Also used for colds and flu.
Not a drug. Sold without a prescription. Pack of 100 capsules. Store in a cool and dry place.
Reg. No: G 568/48.
Method of application: take 2 capsules 1 time per day after breakfast. To enhance the effect, it is recommended to use in combination with capsules or Noni juice.
You have not viewed any product yet.