Moods Vitamin C Whitening Water Liquid 250 ml.
$10.95
Description
 BELOV™
 Lotions
 250 ml
350 gram
 Korea
Description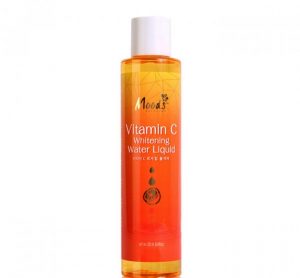 Moods Vitamin C Whitening Water Liquid whitening lotion perfectly removes makeup and various impurities. Its active ingredients free pores from toxins and harmful bacteria, close them and smooth the skin, making the face perfectly clean and well-groomed. The composition of the product includes organic extracts that moisturize and nourish. The tool does not require rinsing, it acts for a long time, saturating with life-giving moisture and energy of nature.
The product has a brightening effect, removes signs of fatigue and stress, eliminates dark spots and evens out skin tone.
A unique selection of useful and highly effective hygiene products allows you to get rid of various dermatological problems and return the skin a gentle, charming radiance.
Mode of application:
On a pre-cleansed face skin (especially around the eyes and lips), neck and décolleté, apply a few drops of the product with lightly patting finger movements. Then use your basic care products or proceed with makeup.
As a base for a mask. Apply to clean skin with a cotton pad, distribute. Wait 5 minutes. Apply a mask. To complete the facial cleansing procedure, apply the product on a cotton pad and wipe the face, neck and décolleté.
You have not viewed any product yet.