Description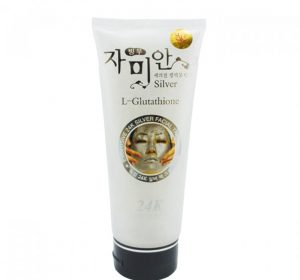 A face mask based on colloidal silver, enriched with antioxidant L – Glutathione, hyaluronic acid, a vitamin complex and collagen produced in South Korea.
The silver mask film due to the active powerful anti-aging composition has a pronounced anti-aging property, restores skin elasticity, smoothness, and tightens the oval of the face.
Unlike the golden mask of the same series, the silver mask narrows the pores well and is especially suitable for problematic mature skin.
Gold mask-film for the face with glutatin has unique properties, as it contains active anti-aging components:
colloidal silver;
L-glutathione;
hyaluronic acid;
retinol;
rose oil;
complex of vitamins A and E;
seaweed extract;
collagen.
Effect of applying 24K Silver L-Glutation Facial Mask:
skin hydration;
pore narrowing;
pronounced anti-aging effect;
tightens the oval of the face;
wrinkle fighting;
fight pigmentation;
soft peeling effect.
The silver mask is applied to the clean skin of the face in the form of a silvery paste-like mass, which after 15 – 20 minutes hardens, dries and becomes like a foil on the skin, and then is removed as a film from the face.
Like any face film-mask, the silver anti-aging mask with glutathione has good cleansing and narrowing pores, removes dead cells, acting as a soft peeling.
The volume of the mask with colloidal silver and glutathione is 220 ml.
Mode of application:
Squeeze a small amount of the mask into the palm of your hand and apply to the skin of the face, avoiding the eyes, eyebrows and lips.
After 15 – 20 minutes the mask will dry and it can be removed from the face like a film.
If necessary, wash off the remaining pieces of the mask with water.
You have not viewed any product yet.