Description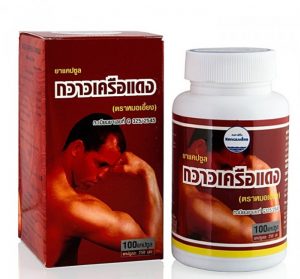 Description
Kra Chai Dum (Kra chai dum, Butea Superba Capsule). Tiger Strength, Black Galangal, Thai Ginseng is a very popular folk remedy. Natural enhancer of male power. Charges the male body with new forces and energy, relieves fatigue. It stimulates the work of the heart, improves blood circulation, dilates blood vessels, removes toxins from the body, eliminates gas formation in the intestines, relieves bloating, provides a very good tonic effect, promotes the production of testosterone, and exacerbates sensitivity in relations between a man and a woman. Positive effect on life expectancy. It tones, increases endurance, gives energy, is used to treat and prevent prostatitis, improves potency, relieves muscle cramps, relaxes the body after physical exertion, relieves muscle tension, and improves performance. An excellent tonic for athletes and people experiencing great physical exertion.
Black Galangal is grown in an ecologically clean place – in the Loey province in northeast of Thailand, without the use of pesticides, where the soil does not contain heavy metals.
Fresh and dried galangal root resembles ginger in appearance and taste, only with a sharp pepper and light citrus hue, and a little like saffron in aroma.
Contain: Contains 100 Capsules. Net weight 250 mg/capsule.
Registration Number: G325/2545.
Ingredients: In 100 grams of medicine, it contains 20 grams of Butea superba, 20 grams of Pepper, 20 grams of Diospyros rhodocalyx, 10 grams of Elephantopus scaber and other herbal ingredients.
How to use: Take 1 capsule 1 time per day before meals. The course of treatment is 2 – 4 packs depending on the result. After a month, it is advisable to repeat the course.
It has no contraindications.
You have not viewed any product yet.