Description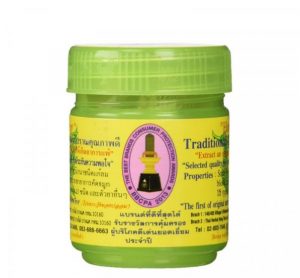 Description
A natural remedy for colds and colds, made entirely from medicinal herbs and essential oils, has a number of medicinal properties and a wide range of applications:
It relieves the common cold – "pierces" the airways,
Effectively fights colds, making breathing easier,
Useful for asthma, bronchitis, sinusitis,
Acts as an antipyretic,
It has an antiseptic effect,
It activates the brain
It quickly brings to life with weakness, fainting, heat stroke,
Helps with motion sickness, motion sickness in transport, nausea,
Saves from fatigue and nervous breakdowns,
Soothes the nervous system.
Ingredients: Collection of 15 Thai healthy herbs, camphor oil, menthol, eucalyptus oil.
Registration number: 10-1-6010014564.
Method of application: Open a jar and just inhale several times. For diseases of the throat – breathe through the mouth to facilitate breathing – through the nose.
To enhance the therapeutic effect, you need to cover your head with a scarf and inhale a couple of jars for 5 minutes.
Contraindications: Individual intolerance to the components.
You have not viewed any product yet.