Description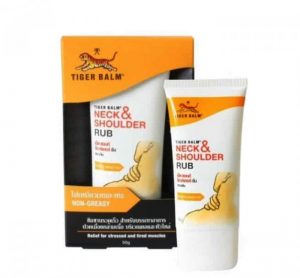 Description
The product is designed specifically for those who are painfully familiar with the "at the computer" posture and constant tension in the lower back, back, neck, and shoulder region. The balm contains natural extracts and oils selected in a harmonious combination, presented in a convenient tube, has an economical flow rate and high efficiency: discomfort passes literally in a few minutes! The non-greasy formula absorbs quickly and leaves no residue on clothes, the natural aroma refreshes, relieves headaches, while not irritating others. Menthol and camphor cool pleasantly, making you feel light throughout the body.
The tiger balm for the neck and shoulders is positioned by the manufacturer as "help on the go": it can be carried with you, used if necessary, or kept at work. Having spent a couple of minutes on a pleasant massage of the collar zone, you will feel how your physical condition and mood have improved!
Ingredients: camphor oil – 11%, menthol – 10%, peppermint oil 6%.
Method of application: in case of acute pain, apply cream on dry, clean skin. Apply 1 – 2 times a day or as needed.
Precautions:  For external use only. Do not take by mouth. Do not use for children under 12 years old and for pregnant and lactating women.
You have not viewed any product yet.