Description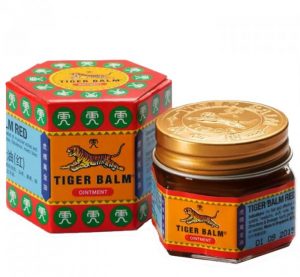 Description
HAW PAR Tiger Balm is a legendary healing formula for external use, created specifically to relieve pain of almost any origin. Herbs that contribute to improving the condition of joints and blood vessels, have anti-inflammatory effects. During a cold or flu, the balm will also become your faithful assistant. Truly, this is a universal remedy.
It doesn't matter if your head hurts, rheumatism tormented, if you pulled a bunch in sports training – in all these cases, tiger balm will be the salvation. Muscle pain after sports or itching from an insect bite can also be eliminated with this tool. It is worth noting that this balm does not make nerve endings insensitive.
It will accelerate the healing of ulcers and wounds, fractures, infections, improve blood circulation.
Ointment composition: Camphor cinnamon (extract) (Cinnamomum camphora) – 11%, Peppermint (extract) (Mentha piperita) – 10%, Tea tree / Kayaput (oil) (Melaleuca leucadendron) – 7%, Peppermint (oil) ( Mentha piperita) – 6%, Clove (oil) (Eugenia caryophyllus) – 5%, Cinnamon (extract) (Cinnamomum verum) – 5%, Cream base (Ointment Base) – QS (required amount).
Active Ingredients:
Camphor cinnamon (Cinnamomum camphora). Camphor has long been famous for its healing properties. It is primarily an effective stimulant, anti-inflammatory, expectorant, antiseptic, analgesic and antispasmodic. It has a vasoconstrictor effect. Used for respiratory diseases. It is used as an antiseptic to relieve local irritations. A good remedy for flu and colds, which relieves swelling of the mucosa, promotes perspiration and reduces coughing.
Peppermint (Mentha piperita). It has antiseptic, cooling and antispasmodic effects. It is an effective treatment for pain in joint inflammation, helps with muscle cramps, has an anti-inflammatory effect. It acts as a cooling and painkiller. It has a vasodilating effect. The use of peppermint for local pain with bruises and sprains, as well as inflammation of the joints helps not only to remove unpleasant sensations from the affected area, but also helps to neutralize stress and soothes the nervous system.
Kayeput (Melaleuca leucadendron). Widely known as tea tree oil. In cosmetics, it is used for oily skin to fight inflammation, as it has high antimicrobial and antifungal activity. It has a pronounced antiseptic and anti-inflammatory effect, due to which it is used in the treatment of respiratory diseases.
Clove (Syzygium aromaticum). It is used to stimulate and improve the digestive system, as well as for the treatment of colds and lung diseases (pharyngitis, laryngitis, cough, sinusitis, bronchial asthma, etc.). The ability of cloves to reduce the level of Vata ensures success in treating problems associated with this dosha, including: various kinds of acute pains, gas in the intestines, hiccups, etc. Like cardamom, a clove bud can be chewed to remove bad breath. This spice is an excellent tool against caries and other dental diseases, which is used to create Ayurvedic natural pastes for the care of teeth and oral cavity. Cloves can also help with headaches, toothaches, and it is also a good remedy for colds and dry coughs. Cloves will warm and disinfect with a cold. For joint diseases (arthrosis, arthritis), clove oil is used. It is also used for severe toothache or ear pain. It is an aphrodisiac.
Cinnamon (Cinnamomum verum). Not only a famous spice, but also a powerful healing agent. Strengthens the immune system and gives strength to the body as a whole. Cleanses the liver and bile system, reduces the risk of developing cancer in the intestine, and in principle improves the state of the gastrointestinal tract. A positive effect of cinnamon on blood pressure, the state of the heart muscle and blood vessels, prevents the formation of blood clots, and cholesterol levels. A good remedy for flu and colds, which relieves swelling of the mucous membrane, promotes perspiration and reduces coughing. Cinnamon also reduces pain.
Contraindications: individual intolerance to some components, pregnancy, breast-feeding. Avoid contact with eyes and open wounds.
Appointment: pains of any origin, injuries, dislocations, muscle pain, fractures, sores, colds, headaches.
Instructions for use: for muscle pain, sprains, bruises, as well as rheumatic and arthritic pains, apply the balm with a thin layer on the damaged area and rub in with massaging movements. The procedure should be repeated up to 4 times a day.
In case of headache, a small amount of balm should be applied to the skin of the forehead and in the temples, rubbed with light massaging movements.
Before physical activity: it is recommended to massage with a small amount of balm a few minutes before training.
For colds: rub the balm at bedtime in the chest, neck, back, nose.
Nasal congestion, rhinitis: apply a thin layer on the nose bridge and wings of the nose, you can also add a small amount of balm to the inhalation solution.
You have not viewed any product yet.