Cybele, Scar Gel Double Action
$14.35 – $16.45
Description
 Cybele™
 Gels
 9 / 19 gram
 20 / 40 gram
 Thailand
Description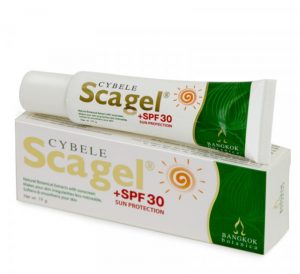 Description
Gel from scars Scagel helps to get rid of the deepest scars, help in the treatment of scars of various origins. Scagel cream softens, smoothes and reduces scars. The drug can be used for all types of scars. The cream also prevents scarring, so it is recommended to apply it immediately after wound healing. Suitable for all types of scars (fresh and old): from surgery, injuries, burns, acne and stretch marks.
Composition:  Allantoin (comfrey root) Aloe Vera (Aloe Vera extract) onion extract (Allium sulfur 12% Extract) extract from Centella asiatica (Centella asiatica extract) extract from paper mulberry (Broussonetia papyrifera extract) extract of Indian tamarind (Tamarindus extract) from Portulac common (Portulac Oleracea extract) extract from Perilla Frutescens (Perilla Frutescens) fruit extract Amla (Phyllanthus Emblica extract) extract from algae (Ipomoea PES-caprae) Vitamin E Hyaluronic acid Nano Hydroxyprolisilan C, Allium Cream ), on three hyaluronic acid salt, pyroglutamic acid sodium salt, acrylic polymer, C10-30, triethanolamine, butylene glycol, Broussonetia papyrifera extract, morning glory PES-caprae extract, Portulac Oleracea extract, polysorbate 20, propylene glycol acrylate, mole styrene dia , Iodopropynyl butylcarbamate.
Method of application:  Before use, rinse the affected areas, and then apply a thin layer of gel and massage for 2 to 3 minutes until completely absorbed. The procedure is preferably carried out 2 times a day, because this improves the end result. Other cosmetics can be used on top of the cream.
You have not viewed any product yet.