Description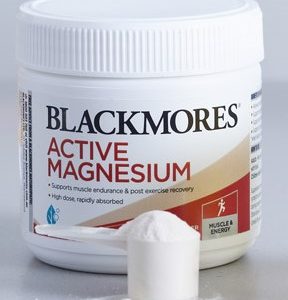 Blackmores Active Magnesium provides a high dose, rapidly absorbed magnesium complex in the form of MagAbsorb+™ which, helps to reduce muscle cramps, tension and stiffness* and supports healthy cardiovascular system function.
This easy-to-take powder also contains ginseng to help support muscle endurance and aid post exercise recovery, and vitamins C, B12 and folic acid to help support energy levels.
The Blackmores difference
Blackmores Active Magnesium exclusively contains MagAbsorb+® two highly absorbed and bioavailable forms of magnesium.
Why use
High strength, rapid absorption
Helps relieve muscle cramps, tension and stiffness when dietary intake is inadequate
Added ginseng helps support muscle endurance and aids post exercise recovery
Vitamins C, B12 and folic acid help support energy levels when dietary intake is inadequate
No artificial colours, flavours or sweeteners
Natural Lemon / Lime Flavour
One a day dose
Active ingredients per 5g
Magnesium citrate (magnesium 296 mg) 2.04 g
Magnesium glycinate dihydrate (magnesium 24 mg) 216 mg
Total magnesium 320 mg
Eleutherococcus senticosus (Siberian ginseng) ext. dry conc. 133 mg equiv. to dry root 2 g
Calcium citrate tetrahydrate (calcium 102 mg) 488 mg
Calcium pantothenate (pantothenic acid, vitamin B5 18 mg, calcium 1.7 mg) 20 mg
Total calcium 104 mg
Thiamine nitrate (thiamine 12 mg, vitamin B1) 15 mg
Riboflavin (vitamin B2) 5 mg
Nicotinamide (vitamin B3) 25 mg
Pyridoxine hydrochloride (pyridoxine 41 mg, vitamin B6) 50 mg
Folic acid 200 microgram
Cyanocobalamin (vitamin B12) 50 microgram
Colecalciferol (vitamin D3 400 IU) 10 microgram
Chromium picolinate (chromium 24.5 microgram) 200 microgram
Dosage
Adults – Mix 5 grams in with 250 ml of water and consume with food
Children under 18 years – Only as professionally prescribed
Warnings
Always read the label
Follow directions for use
If symptoms persist talk to your health professional
Supplements may only be of assistance if dietary intake is inadequate
Contains sulfites and soya
If you are pregnant or breastfeeding, consult a health professional before use
If you have any pre-existing conditions, or are on any medications always talk to your health professional before use
Some products should be ceased at least two weeks before any elective surgery, please confirm with your health professional
You have not viewed any product yet.